2023
CURRENT EXHIBITION

THE TREE OF LIFE
The Arborealists
18 November – 23 December
In celebration of trees, this exhibition aims to promote the conservation of ancient woodland and tree planting, both vital strands of the environmental crisis recovery strategy.
The Tree of Life exhibition text panel
arborealists artists statements
Image: David Wiseman
---
PAST EXHIBITIONS

FLOCK TOGETHER
Community Sewing Project Exhibition
14 January – 4 February 
A showcase of all the stitched works created during 2022 responding to the theme Flock Together.
For more info on the project click here
---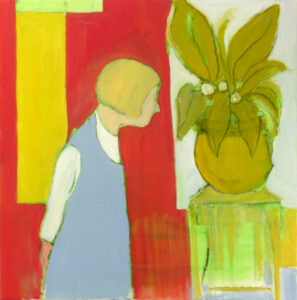 SHARED MOMENTS
Kay Lewis-Bell
11 February – 11 March
Drawings, Paintings and Words reflecting memories of the ordinary.
Click here to view Kay's Artist statement
---

MOVEMENT, MULTIPLES & MARGINS
Amy Bonsor
18 March – 22 April
Abstract, tactile works employing repetition and stitched construction to explore movement and transition. Amy is fascinated with pattern, often that found in nature and in particular macro and microscopic imagery. Subtle variations are achieved by hand dying, painting, printing or hand drawing and carefully selecting and composing elements to construct forms and surfaces with gentle transitions and an undulating sense of movement.
---
THE DECLINE OF SOMERSET EELS
Julia Manning RE SWLA
29 April – 27 May
 A series of 12 limited editioned relief prints, the artist raises awareness of the international decline of eels by telling their dramatic, unbelievable saga which unfolds annually in Somerset.
For more info see Julia Manning exhibition statement
---

FOLD: Structures and Bindings
ABCD (Artists' Book Club Dove)
3- 10 June
The latest offerings from ABCD, a group of book artists based at Dove Studios in Butleigh.
This year we are working as a group with specific bindings, however, each artist's interpretation and use of these bindings will be very different and, we hope, inspiring.
To find out more read member Ama Bolton blog posts here 
---

SEEDS, FLOWERS AND FLOWING HAIR
Vivienne Beaumont
17 June – 22 July (Closes at 3pm on Saturday 22nd July)
Vivienne Beaumont's soulful textile work is shaped by symbols and stories, archetypes and female transformation. She takes inspiration from myths and fairy tales. That these tales have endured the ages, suggests they hold a deeper meaning for us. Mothers and daughters, love and rites of passage – the repeated cycles from one generation to the next – these loom large in her textile story.
Vivienne Beaumont Artist Statement 
---

A FEEL FOR PRINT
17th June – 22nd July (Closes at 3pm on Saturday 22nd July)
Experience an array of uplifting printmaking created by adults and children with visual impairments from across Somerset.
This unique collection of prints was created in workshops held across the county led by Somerset artist and printmaker Gemma Trickey and facilitated by Angela Charles,  who is a 'blind artist' herself.
There is a short film to accompany this exhibition by filmmaker Hannah Earl. The film gives valuable insight in to the printmaking workshops.
The workshops were kindly funded by Somerset Art Works and arranged in partnership with Somerset Sight.
Click here to read A Feel for Print text panel info
---

UNCHARTERED
Robert and Julia McKenzie
29 July – 12 August
29 July – Join us for our Coffee Morning and Meet the Artists
This work features maps, words, images, hope and echoes of the sea. The coasts, trade winds and currents have all helped create this exhibition, to chart the unchartered, noting glimpses and fragments of the past to help reflect upon now and tomorrow.
UNCHARTERED Exhibition statement written by Julia McKenzie 
Uncharted exhibition info sheet
---

THE DEMENTIA DARNINGS
Jenni Dutton
15 August – 2 September
Meet the artist Saturday 19 11 – 1 pm
Please note the exhibition will close at 4pm on Saturday 2nd September
The Dementia Darnings present a series of large scale portraits in wool and thread of the artist's mother. The images reflect the ageing process as well as the erosive effect of dementia on the individual. The process of developing the work is slow, the intensity of each piece mirrors the relationship between mother and daughter.
Dementia Darnings exhibition statement
---
In the Make Space

THE HIDDEN HISTORIES OF WOMEN: researching, reflecting and responding to our Grandmothers' histories.
Alison Baxter
29 July – 2 September
A growing collection of miniature vessels celebrating Grandmothers and their legacies. People share memories of their Grandmothers and Alison visually interprets through these abstracted female forms, each Grandmothers different characteristics and what they are remembered for.
---

MOMENTUM: Memories, Journeys & Times
Sandra Meech & Elizabeth Brimelow
9 September – 7 October
Meet Sandra Meech Thursday 14 September 11-12.30
Meet Sandra and Elizabeth Thursday 21 September 11-12.30
Sandra Meech and Elizabeth Brimelow are landscape inspired artists.
'Momentum' will focus on personal experiences based on memories and a glimpse of special moments in time.  The Somerset Levels, climate change and art, collage and stitch observations from personal walks and journeys are some of the themes which will be explored.
---
In the Make Space

ARBORETUM
Janet Murphy, Mixed Media and Photography
Somerset Art Weeks Venue 143
9 – 30 September
A unique and personal collection of photographic and mixed media images from the Somerset Levels to the Quantock Hills.
Janet will be in the gallery on Tuesdays and Thursdays –  19, 21, 26 & 28 – 2.30 – 4.30pm
Janet Murphy Photography Biography
---

ACEARTS OPEN
14 October – 11 November – please note the exhibition will close early on 11th November at 4pm
An exhibition showcasing selected works from
ashar, Sally Baldwin, Delphi Barney, Rik Berry, Oliver Bliss, Emily Boden, Bronwen Bradshaw, Joanna Briar, Karon Boyce, Sue Burne, Fiona Campbell, Sian Cann, Maddy Casey, Michael Chance, Andrea Clark, Tom Clark, Damian Clarke, Melanie Clarke, Kate Cochrane, Peggy Cozzi, Alice Crane, Michelle Dash, Andrew Davey, Leo Davey, Toni Davey, Jill Davies, Teresa Dunstone, Tim Edgar, Philippa Edwards, Pennie Elfick, Ian Gabaldoni, Cheryl Garner, Fiona Gill, Susan Gradwell, Linda Green, Suzanne Green, Tonia Gunstone, Lucile Haefflinger, Lucy Hawkins, Sally Hebeler, Bob Hellyer, Tina Hill, Polly Hobbs, Paul Hodges, Terri Hogan, Christine Howell, Jane Humphrey, Alison Jackson-Bass, Judith Jones, Wendy Jump, Alex Kennedy, Bobbie Killip, Georgina King, William Lasdun, Ursula Leach, Pauline Lerry, Jo Lucksted, Ruth Lyne, Tracy Marshall, Sian Martin, Gail Mason, Julia McKenzie, Robert McKenzie, Alicia Merrett, Jennifer Monds, Seamus Moran, David Mowat, Amy Newberry, Lou Nicholson, Jo Norman, April Pebble Owens, Shay Parsons, Rowena Payne, Mel Petty, Sue Potter, Kim Pragnell, Milly Rodger, Lucy Rodgers, Pauline Rook, Roger Rowley, Cameron Scott, Juilan MC Scott, Sue Smallwood, Sheena Spacey, Sue Spence, Richard Stevens, Meg Stokes, Mark Stopforth, Georgina Towler, Maria Travkina, Carole Watson, Alison Whateley, Louise Wiseman, Sue Wyllie, and Ruolin Zhang.
Cover image by Polly Hobbs