Workshops & Events
Come and learn new skills and join in with our various activities in our continually evolving series of workshops, talks and other events. These lively events relate to our exhibition programme and are a great way to gain further insights into the artists and their work or learn new skills in a warm and friendly environment.
Early booking is recommended. Please see our terms and conditions at the bottom of this page.
---
ANODISED ALUMINIUM JEWELLERY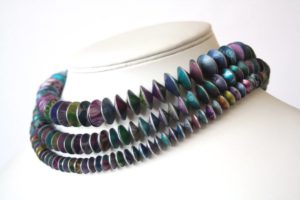 23rd March 10 am – 4  pm
Workshop led by Caroline Parrott.
Caroline creates colourful jewellery using her hand printed and coloured aluminium, from one off bespoke pieces for that special occasion, to limited collections of bangles and pendants unique to each dye batch.
And you can too! During this wonderful workshop Caroline will lead you through the techniques needed to produce your own Anodised Aluminium jewellery.
£65. Includes materials. Booking required.
---
INTRODUCTION TO BOOK BINDING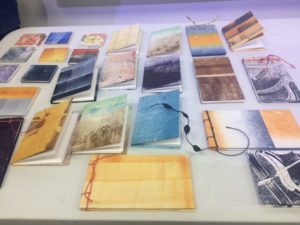 2nd April 10 am – 4 pm
Workshop led by Pauline Pearce, suitable for beginners.
During this workshop participants will learn three versatile book styles, which can be used to present work, to personalise and give as gifts, or as the basis for artists' books.
On completion of the workshop students will leave with a set of their own books and the skills to make more at home using minimal equipment.
£50. Booking required.
---
PATTERNED PAPER & FOLDED BOOKS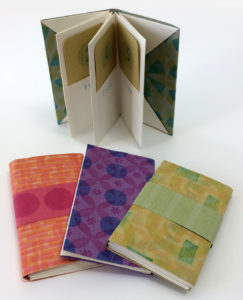 27th April, 10:00am – 4:00pm
Patterned papers and folded books
with book artist and illustrator Corinne Welch
Come and make your own patterned papers using tiled stamps, then learn how to use these papers to make simple folded book structures. By the end of the day you will have created your own range of small folded books, and you can take away instructions for making more at home. No previous bookbinding experience needed.
£50. Booking required.
---
ABSTRACT DRAWING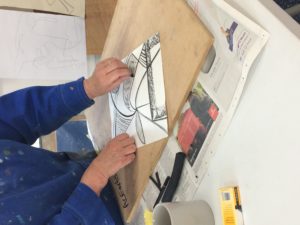 29th April, 10:00am – 4:00pm
Workshop led by Pennie Elfick.
This workshop will explore the instantaneous decision-making between eye, mind and hand.  Black ink, pens, sticks, brushes, pencils cut out paper, will all be used to encourage students to find their own way of 'taking a line for a walk'.  At the end of the day each student should have gained in confidence allowing them to pursue an idea in a very different way and to understand that representation is not necessarily the measure of a 'good' drawing.
£50. Booking required.
---
MADE IN SOMERSET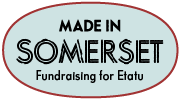 4th May
Artisan shopping event 10-4
Somerton once again plays host to Made in Somerset, now in its 5th year, bringing together a unique mix of over 35 designer-makers and artisan-producers from across the county of Somerset. This year's event includes the makers of exquisite handmade jewellery, stylish ceramics, interesting stationery and prints, luxury candles and indulgent treats, as well as a number of outstanding artisan food producers.
---
DRAWING LINES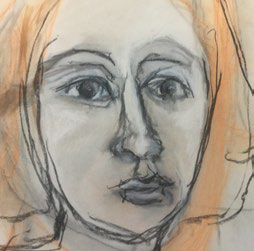 18th May, 2:30pm – 4:30pm
Workshop led by Kay Lewis-Bell. To compliment the current exhibition, Kay will take you on a journey in charcoal.
£35. Booking required.
---
COLOUR MIXING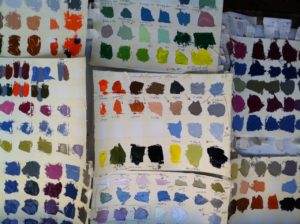 17th June 10-4
Workshop led by Pennie Elfick.
Colour Mixing for artists and designers. Pennie will take you through the basic principles of colour and colour mixing. Using examples, demonstrations and hands on colour mixing, suitable for beginners or those with some experience.
£65 pp
---
LINO CUT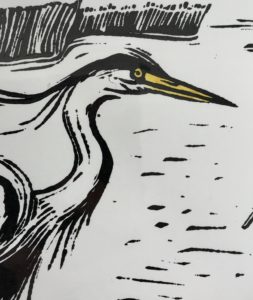 24 June 10 am – 4 pm
From design to print with Ann Fagan and Liz Biesty.
Printmakers Ann Fagan and Liz Biesty will lead you through the techniques needed to produce your own lino print to your own original design.
All materials required are provided. This workshop is suitable for beginners and those with more experience.
£55 pp
---
CREATIVE SKETCHBOOK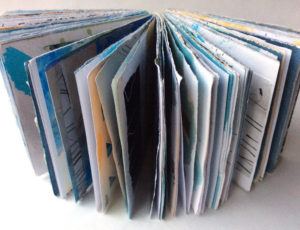 31 August and 2 September 10 am – 4 pm
A two day workshop with Sandra Meech.
 Creative bound sketchbook with Sandra Meech. Sandra will lead you through the techniques needed to create your own individual bound sketchbook with content. You will painting pages, create signatures and learn a bookbinding stitch, adding collage, line and image to pages and exploring the rules of design and composition.
£100 pp. Early booking advised.
---
FURTHER STEPS IN BOOKBINDING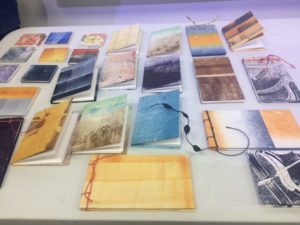 3rd September
Workshop led by Pauline Pearce.
£50. Booking required.
---
LETTER CARVING IN WOOD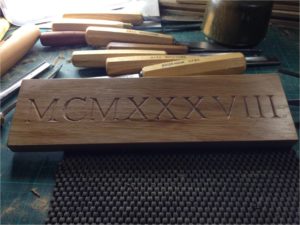 19th October 10am -4 pm
A day long course introducing you to the art of letter carving in wood. Led by Stephen Stokes of Bodden Cross Studio, a letter carving professional for the last seven years, you will learn about the tools and techniques involved in letter carving.
The course will begin with you carving your year of birth, or another date important to you, in Roman Numerals. You will then go on to explore the wonders of your 26 new friends, the letters of the alphabet.
By the end of the day you will have begun your own project, carving a sign in a typeface of your own choosing.
£65. Booking required.
---
We have regular events
MAKE SPACE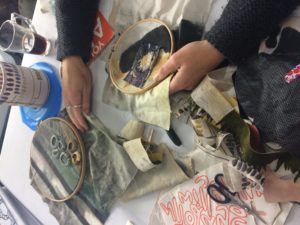 First Wednesday of each month, 11:00pm – 4:00pm
Come and join our informal friendly art and craft group. Bring your latest project to work on. Stay for an hour or the whole day. Donations welcome.
FREE No booking required.
---
DROP IN LIFE DRAWING

Every Wednesday  morning 10:00am – 12:00pm
Tea & Coffee included.
Sessions take place in the Pinney Room (small room) in the Parish Rooms, Market Place, Somerton.
£10. No booking required.
---
COFFEE, CAKE & CONVERSATION
First and third Friday of each month, 10:30am – 12:30pm
Come and join us for fresh coffee and delicious cake. Donations welcome.
No booking required.
---
Terms and conditions
PLEASE NOTE: Our workshop places fill up quickly, your booking will only be secured once we receive payment. Bookings can be made online through our website or in the gallery Tuesday – Saturday 10-5 or call 01458 273008 using a credit or debit card.
Payments are non refundable.