Workshops & Events
Come and learn new skills and join in with our various activities in our continually evolving series of workshops, talks and other events. These lively events relate to our exhibition programme and are a great way to gain further insights into the artists and their work or learn new skills in a warm and friendly environment.
Early booking is recommended. Please see our terms and conditions at the bottom of this page.
---
We have regular events
MAKE SPACE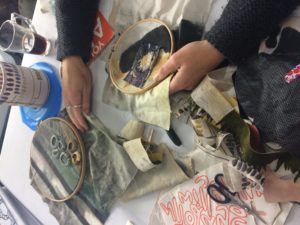 First Wednesday of each month, 11:00pm – 4:00pm
Come and join our informal friendly art and craft group. Bring your latest project to work on. Stay for an hour or the whole day. Donations welcome.
FREE No booking required.
---
DROP IN LIFE DRAWING

Every Wednesday  morning 10:00am – 12:00pm
Tea & Coffee included.
Sessions take place in the Pinney Room (small room) in the Parish Rooms, Market Place, Somerton.
£10. No booking required.
---
COFFEE, CAKE & CONVERSATION
First Friday of each month, 10:30am – 12:30pm
Come and join us for fresh coffee and delicious cake. Donations welcome.
No booking required.
---
Book worms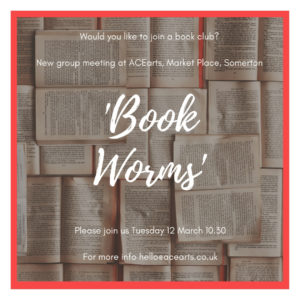 Reading book discussion group, meeting every 6 weeks to discuss the latest book chosen by the group.
For the next meeting date please email hello@acearts.co.uk
---
Terms and conditions
PLEASE NOTE: Our workshop places fill up quickly, your booking will only be secured once we receive payment. Bookings can be made online through our website or in the gallery Tuesday – Saturday 10-5 or call 01458 273008 using a credit or debit card.
Payments are non refundable.