2022

THE RED DRESS & ITS SOMERSET ARTISANS
Kirstie Macleod
8-29 January
Over 250 artisans, 29 countries, 1 dress.
The Red Dress is a global collaborative embroidery project conceived by British artist Kirstie Macleod. 12 years in the making, it seeks to connect individuals from all walks of life and provide a platform for women's voices to be heard.
As part of the Red Dress's year long tour of the UK funded by the Arts Council, this exhibition will present the unique garment alongside images and stories of the artisans who helped create her, including the stitched work from 10 local embroiderers who have contributed to the Red Dress.
Bron Bradshaw, Bee Blake, Blanka Berta Kolkova, Fiona Hingston, Jane Mowat, Nina Gronw-Lewis, Sian Martin, Diana Griffiths, Ingrid Hesling & Sophie Doig.
Image: Sophia Scorr-kon
AN EVENING WITH THE RED DRESS
10th September 6-8pm £15pp
A presentation and Q&A of the completed 13 year global collaborative embroidery project ahead of its 4 year global tour.
The event will also see the launch of the newly completed Red Dress Catalogue (signed copies will be available).
click here to purchase your ticket
Click the link below for FAQ
The Red Dress Questions_ KM_2021
Click the link below for the Exhibition text
To find out more click here for The Red Dress embroidery website.
---
IN THE SECOND SPACE: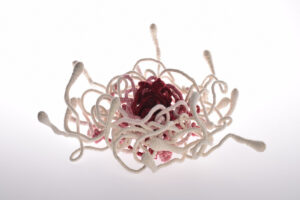 HOPE EMERGING
Tara Kennedy
8-29 January
Textile sculptures and wall art inspired by emotional response to different cultures and religions suffering in conflict. Important messages of acceptance, empathy and hope are shown emerging from this pain. Coloured yarns provide a metaphor expressing the transformation from blood spilt and the pain of suffering through graduated tones to ivory conveying hope.
Click the link below for Tara's Artists Bio
Click below for Tara's Artist statement
---
IN THE MAIN EXHIBITION GALLERY :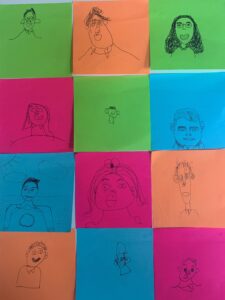 ALL TOGETHER NOW
Schools Exhibition
5 – 26 February
An exhibition showcasing pupils work created during our outreach project led by artist Natasha Rand. After the isolation felt during the pandemic 2020/21 this visual representation shows us All Together Now.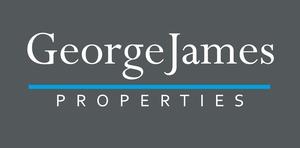 ---
IN THE MAIN EXHIBITION GALLERY: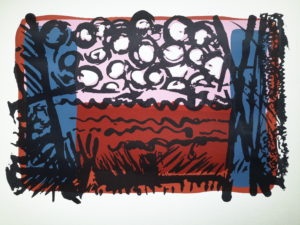 SIX OF THE BEST
Sebastian Chance, Tom Clark, Heather Fallows, Nina Gronw-Lewis, Frank Martin and Ricky Romain.
5 March – 2 April
Six artists brought together by ACE founding trustee Frank Martin to showcase current contemporary art practice in the South West now.
Meet the artists Saturday 5 March 2-4pm
---
IN THE SECOND SPACE:

CHAOS AND ORDER: ADVENTURES IN CLAY
Jane King
5 March – 2 April
A collection of dynamic ceramic sculptures, many made especially for this exhibition, which combine opposites of form, texture and colour as metaphors for perfection and control versus imperfection and chaos. Vivid, flat acrylic surfaces contrast with muted, messy or collapsing sections that express the contrast between how we would like life to be with how it really is.
Please click the link below for Jane's CV and Artists Statement:
Jane-King-CV-bio-and-statement-Jan-2022.pdf
Image credit: Bernard G Mills.
---
IN THE MAIN EXHIBITION GALLERY:

FIFTY BEES 5
Lydia Needle
9 April – 14 May
The Interconnectedness of All Things is the new ecological, collaborative exhibition devised by Lydia for which she has sculpted 50 more bee pieces from wool, thread and vintage containers. Another 50 artists were invited to research and create new companion works inspired by the ecology of one of those bees species. This presents a wonderfully unique and diverse narrative about the interconnection between the flora and fauna of our ecosystem.
---

LOCAL HEROES
Emma van Zeller
9 – 23 April
Local Heroes is an exhibition of illustrations created by Emma van Zeller in 2021 for Country Life Magazine. The Role Models column was a weekly  series of satirical stereotypes written by Giles Kime and Kate Green. Emma illustrated the characters in pencil, ink and watercolour, with characteristic charm.
---

EXTRAVAGANT DISJUNCTION
Louis Neale, George Rayner, Oliver Kirkham & John James Perangie.
30 April – 14 May
Showcasing works from a group of young emerging artists, Extravagant Disjunction explores themes from inconsistency and upset in everyday life, to the constant changes and development in personal art practice.
Image: Louis Neale
---
IN THE MAIN EXHIBITION GALLERY: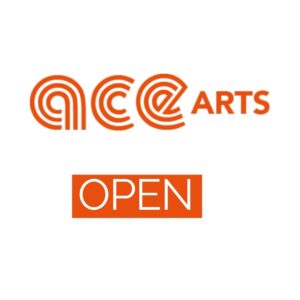 ACEARTS OPEN
Various Artists
21 May – 25 June
An exhibition showcasing the selected works from our Open Call.
---

INK & PRINT
Carl Middleton, Jo Norman & Gemma Trickey
21 May – 25 June
Three printmakers span the disciplines of linocut, silk screen, relief, letterpress and risoprint. From figurative work through to abstract experimentation, the Ink & Print Collective display a range of printmaking techniques with diverse inspiration such as colour exploration, social issues and a sense of place.
---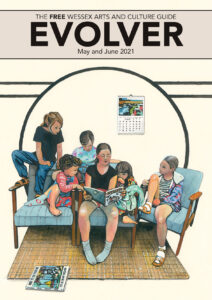 EVOLVER PRIZE 2022
Various Artists
2 – 30 July
Artists, photographers and designers compete annually for a cash prize of £1,000 and their work to be published on the front cover of the July/August edition of Evolver, the Wessex arts and culture guide. This exhibition will feature the winning entry alongside the 49 runners-up.
To find out more click here
---

ROAMING THE QUANTOCKS
ashar
2 – 30 July
Inspired by the wide open spaces, big sky's and forever views the Quantocks has to offer ashar, expresses a sense of place. Working in oils, her work is often described as emotional and moving.
---

STOP
Georgina Towler
6 – 20 August
STOP and bathe with me in the golden light. Life is fast and looking is slow: STOP, LOOK, SEE, FEEL.
These paintings are evaluations of light: light falling, light landing, light forming. Enveloping afternoon glistening light; the flickers of hope in the depths of winter, the illuminating greens in the infancy of spring, the warming hum of summer.
Sparkling yellows, burning whites, cool blues and warming shadows.
Blue then green, light then dark, soft then sharp, dynamic then constant.
---

A CELEBRATION OF SKY
Steve Manning
6 August – 10 September
A collection of lino prints inspired by the dramatic skyscapes that gather over moor, marsh and sea. Steve's prints of distant vistas and ethereal skies are rendered with a painterly quality not usually associated with lino print.
---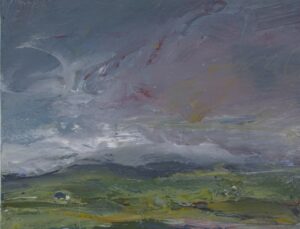 ALL RISE
A Fundraising Exhibition by ACEarts
All works now available in the gallery or online click here
Donated works for sale include pieces by the following artists:
Alison Whateley, Amanda Wallwork, Andrea Clark, Andrew Davey, Angela Knapp, Angela Morley, Anja Percival, Ann Bruford, Ann Fagan, Anna Gardiner, Annie Musgrove, ashar, Barbara Karn, Betsy Smith, Bronwen Bradshaw, Cara Maccallum Hills , Caroline Parrott, Christian Brechneff, David Parfitt, Deborah Westmancoat, Diana Hulton, Gail Mason, Gemma Trickey, George Winter, Georgina Towler, Gina Baum, Hana Lott, Ione Parkin, James Lynch, Jane Rollason, Janette Kerr, Jayne Brayne, , Jenni Dutton, Jenny Graham, Joanna Briar, Jo Luckstead, Joanne Horrobin, John Gammans, John Hilliard, John Waters, Julia Manning, Kate Lynch, Kaye Parminter, Kirstie Macleod, Liz Bath, Liz Biesty, Lucy Hawkins, Lynn Keddie, Maggie Laing, Mary Kembery , Michael West, Mike Nicholls, Misha Seelhoff, Naomi Kendall, Natty Deco, Nick Rees, Paul Newman, Paul Stubbs, Pauline Pearce, Pennie Elfick, Gilbert Wabash, Sandra Meech, Sarah Ward, Sebastian Chance, Solange, Somerset Design Studio, Stephanie Max, Steve Manning, Sue Hall, Susan Sinclair, Susie Needham, Theodora Gould, Tina Hill, Tina Seviour, Tom Clark, Toni Davey, Walter Leach, West End Pottery, Penny Price, Corkscrew Leather and more
13 – 17 September
Opening event Monday 12 September 6-8 PM All Welcome
A special exhibition of works donated by the artists that support ACEarts and our charitable aims.
ACE Fundraising Exhibition Press Release
Image: Janette Kerr. Shetland #24 (detail)
---

MY SPACE MY SANCTUARY
Joanna Briar & Jill Davies
24 September – 8 October
Meet the artists Saturday 24th September 11am. 
Since October 2021, Somerset artists Joanna Briar and Jill Davies have used postal exchanges of work to create a visual dialogue of experimental imagery – including drawing with natural pigments and found organic matter; burning, smoking and cutting paper, all directly related to the emotional content of the piece or the place it describes. Building a visual story of their shared experience, documented through the multiple postcard-size pieces they have made together, expresses their experiences of their local landscapes and their growing creative relationship. They have found sanctuary in the natural world and in making/connecting creatively.
Through their collaboration, Joanna and Jill have developed the confidence to take risks, experiment and broaden their creative practice. They were able to emerge from feeling stuck after being isolated and it gave them personal and creative safe-sanctuary.
The #MySpaceMySanctuary project has now extended into the community and to reach a diverse audience Joanna and Jill are running a series of pop-up workshops and calling for participants through social media to make landscape-inspired postcards. The postcards will show relationships to outdoor spaces that provide sanctuary whilst thoughts and feelings will be recorded on the back. Bringing the many postcards together in one large installation will be a poignant image of connection, shared creativity and reflect the many experiences of special outdoor spaces.
---

ABSURD SEWN SELFIES
Jenni Dutton
24 September – 15 October
A collection of mixed media explorations into identity, ageing, disguise and power. The work is made using traditional female materials and processes and offers the universal search for relevance in a world that can undervalue older members of society.
---

FLIGHTPATH
Louisa Crispin
22 October – 19 November
drawing, painting, stitching, collage, cutting, printing – using art to consider insect habitats and the barriers they face with climate change, food scarcity and habitat destruction. Join Louisa Crispin's Great Big Wildlife Corridor, look closer and become part of a positive future for nature through art.
---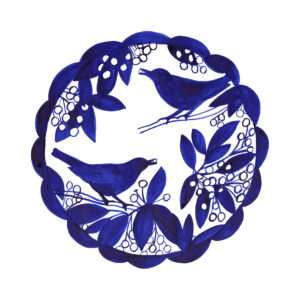 WINGS
Hayley Potter MA RCA
22 October – 19 November
Ceramics, paintings and drawings in a timeless but contemporary palette of blue and white tell the stories of SW England.  With work inspired by the flora and fauna of Somerton and nearby from our natural world, folklore, mythology and faith. This personal body of work explores where the skies and the earth meet and how characters including hares, angels, birds and wyverns may relate to the human condition.
---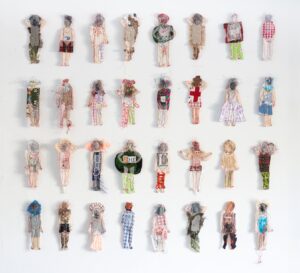 A VISIBLE THREAD
seam Collective
26 November – 24 December
This exhibition aims to encourage viewers to rethink their relationship to thread, be aware of its materiality, its sustainability, its possibilities, and limitations. Thread, as cloth, is woven through our lives. It surrounds us like a second skin. Precisely because of these close connections, it becomes almost invisible to us.
For the e-book of artists statements click here
Click here for A Visible THREAD statement
For more info on seam Collective click here