2022
IN THE MAIN EXHIBITION GALLERY:

THE RED DRESS & ITS SOMERSET ARTISANS
Kirstie Macleod
8-29 January
Over 250 artisans, 29 countries, 1 dress.
The Red Dress is a global collaborative embroidery project conceived by British artist Kirstie Macleod. 12 years in the making, it seeks to connect individuals from all walks of life and provide a platform for women's voices to be heard.
As part of the Red Dress's year long tour of the UK funded by the Arts Council, this exhibition will present the unique garment alongside images and stories of the artisans who helped create her, including the stitched work from 10 local embroiderers who have contributed to the Red Dress.
Bron Bradshaw, Bee Blake, Blanka Berta Kolkova, Fiona Hingston, Jane Mowat, Nina Gronw-Lewis, Sian Martin, Diana Griffiths, Ingrid Hesling & Sophie Doig.
Image: Sophia Scorr-kon
Click here for a video of Kirstie's talk in the gallery 12.1.22
Please also note there will be an embroidery circle stitching on the dress in the gallery on 19th January 10am – 2pm, the gallery will be open to the public but please be aware the dress will be being worked on during this time.
Click the link below for FAQ
The Red Dress Questions_ KM_2021
Click the link below for the Exhibition text
To find out more click here for The Red Dress embroidery website.
---
IN THE SECOND SPACE: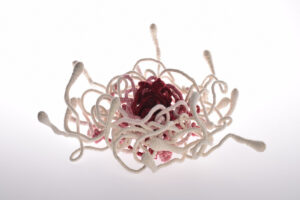 HOPE EMERGING
Tara Kennedy
8-29 January
Textile sculptures and wall art inspired by emotional response to different cultures and religions suffering in conflict. Important messages of acceptance, empathy and hope are shown emerging from this pain. Coloured yarns provide a metaphor expressing the transformation from blood spilt and the pain of suffering through graduated tones to ivory conveying hope.
Click the link below for Tara's Artists Bio
Click below for Tara's Artist statement
---
IN THE MAIN EXHIBITION GALLERY :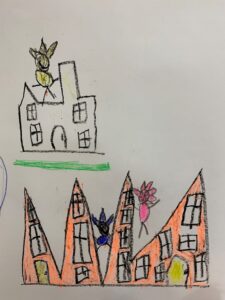 ALL TOGETHER NOW
Schools Exhibition
5 – 26 February
An exhibition showcasing pupils work created during our outreach project led by artist Natasha Rand. After the isolation felt during the pandemic 2020/21 this visual representation shows us All Together Now.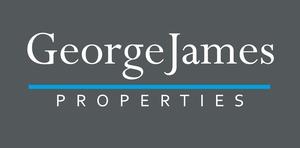 ---
IN THE MAIN EXHIBITION GALLERY: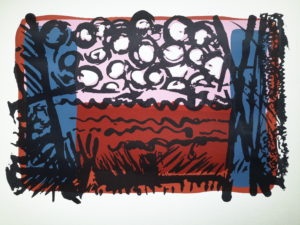 SIX OF THE BEST
Sebastian Chance, Tom Clark, Heather Fallows, Nina Gronw-Lewis, Frank Martin and Ricky Romain.
5 March – 2 April
Six artists brought together by ACE founding trustee Frank Martin to showcase current contemporary art practice in the South West now.
---
IN THE SECOND SPACE:

CHAOS AND ORDER: ADVENTURES IN CLAY
Jane King
5 March – 2 April
A collection of dynamic ceramic sculptures, many made especially for this exhibition, which combine opposites of form, texture and colour as metaphors for perfection and control versus imperfection and chaos. Vivid, flat acrylic surfaces contrast with muted, messy or collapsing sections that express the contrast between how we would like life to be with how it really is.
Please click the link below for Jane's CV and Artists Statement:
Jane-King-CV-bio-and-statement-Jan-2022.pdf
Image credit: Bernard G Mills.
---
IN THE MAIN EXHIBITION GALLERY:

FIFTY BEES 5
Lydia Needle
9 April – 14 May
The Interconnectedness of All Things is the new ecological, collaborative exhibition devised by Lydia for which she has sculpted 50 more bee pieces from wool, thread and vintage containers. Another 50 artists were invited to research and create new companion works inspired by the ecology of one of those bees species. This presents a wonderfully unique and diverse narrative about the interconnection between the flora and fauna of our ecosystem.
---