Outreach

ACEarts Outreach
Our outreach takes place in Schools, with community groups and in residential care settings.
Inspiring and empowering
We believe that regardless of their age or background, everyone can benefit from creative inspiration in their lives.
Our principle aims
As a charity are to provide art and creative activity to inspire, empower and enable people to develop and grow. We are based in the heart of Somerton, in the historic old town hall, where we provide a diverse and inspiring exhibition programme which forms the basis of our comunity engagement and outreach work.
"In addition to the support for professional artists and makers, ACE encourages all sectors of the community to take part in good quality arts activities through their varied range of practical workshops, talks and presentations."
Pauline Burr Arts Development Officer, South Somerset District Council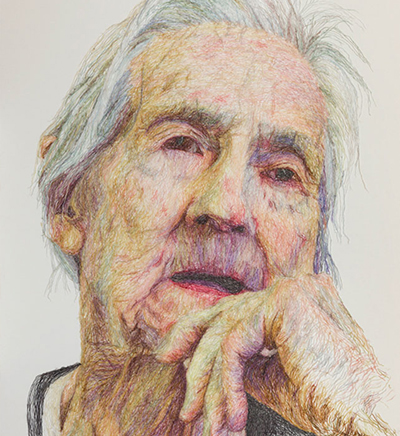 One of our most popular exhibitions of 2017 was the series of portraits known as The Dementia Darnings. These works explore the aging process and dementia through large scale portraits of the artist Jenni Dutton's mother in wool and thread (pictured left). They were produced by the artist whilst she was a carer for her mother, who had developed dementia. Making her mother the subject and focus of her work, helped her to deal with her decline into dementia.
We have since established, and continue to support, the Somerton Area Dementia Action Alliance, and are working towards our gallery becoming fully dementia-friendly and accessible to all.
What We Offer
We offer enjoyable creative activity sessions designed to increase the happiness and wellbeing of elders in care settings.
Our sessions increase social interaction and create a sense of community, introducing new skills and working with familiar media, for example: Felt making, working with clay, painting and drawing and printmaking.
We provide all art materials and ensure the sessions are suitable for people of all abilities and enable everyone to take part.
We offer a variety of themes and vary sessions to the interests of participants.
All our Creative facilitators are experienced teachers and encourage life long learning.
"I can see the immediate positive effects. The group of residents that choose to be involved were engaged and communicating with the facilitator who were absolutely brilliant with them; they shared little stories and it is such a wonderful sociable time for all. We aspire to give our residents quality of life with the appropriate stimulation of their choice and these sessions provide them with not only one of their interests but will also help them to engage with each other on a familiar subject. The management and staff of ACEarts who were instrumental in providing these sessions, have been professional, thoughtful and kind to us. We are very grateful for the opportunity to improve the quality of life for our residents"
Tricia Yahya Manager, Wessex House Care Home, Somerton
New project for 2019 Art In An Envelope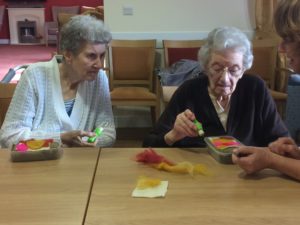 Aimed at individuals living with dementia, their families and carers, Art in an Envelope is a scheme that supplies creative activity packs to households where people are living with dementia.
Each pack contains all of the materials and resources needed for the carer to confidently deliver and participate in creative activity with their loved one.
If you would like to know more or register for our free pilot scheme please email outreach@acearts.co.uk