ACEarts
Art gallery and education charity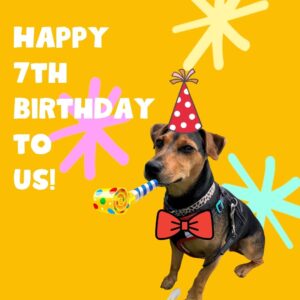 It's our birthday – please help us celebrate!
ACEarts is 7 and we'd love you to help us celebrate – we want 700 people to donate £10 to help us through the upcoming year.
ACE became a registered charity in 2016 and we opened our doors at the Old Town Hall, Somerton in 2017. Seven years on and a whole host of amazing exhibitions later we have secured a 25-year lease and can now make plans for our exciting future delivering more of the vibrant exhibitions you enjoy, together with all the associated events, workshops, and engaging outreach projects in the community.
It takes a staggering £486 per week (up from £198 in 2020) just to keep ACEarts open – and that's excluding staffing costs!  Running and maintaining a beautiful old building like ours is very costly and recent events such as enforced closure due to Covid and huge energy price hikes means we are facing tough times.
But we know times are tough for everyone, which is why we are requesting a small sum from a large number of you – if 700 people could donate £10 in 2023 it will help us enormously to keep the lights – and our roof – on, fund exciting new projects and many new exhibitions in 2024.
Please help us to secure our future here in the heart of Somerton by donating £10 today.
For information on ways to donate larger sums, see our Business sponsorship packages or contact Nina Gronw-Lewis directly on curator@acearts.co.uk 01458 273008.
Making the Difference by Enhancing Lives Through Art
Our inspiring exhibition programme provides a platform for local and national artists. The themed exhibitions represent a diverse approach to making.
The dedicated exhibition space hosts a dynamic range of art and contemporary craft throughout the year and incorporates stimulating associated events and workshops. Come and learn new skills and join in with our various activities in our continually evolving series of workshops, talks and other events.
These lively events relate to our exhibition programme and are a great way to gain further insights into the artists and their work.
Our contemporary craft shop, with level entrance and wide aisles throughout, has a large selection of high quality arts and crafts available to purchase. Every purchase made supports our work in the community. Found out more about our projects by clicking here.
Our principle aim as a charity is to provide art and creative activity to inspire, empower and enable people to develop and grow.
Visit us
The gallery is situated in the Market Square, Somerton TA11 7NB. Parking directly outside the gallery is for one hour only, there are short stay (Free for 2 hours) and long stay (small charge) car parks off Brunel close TA11 7PR, a short walk from the gallery.